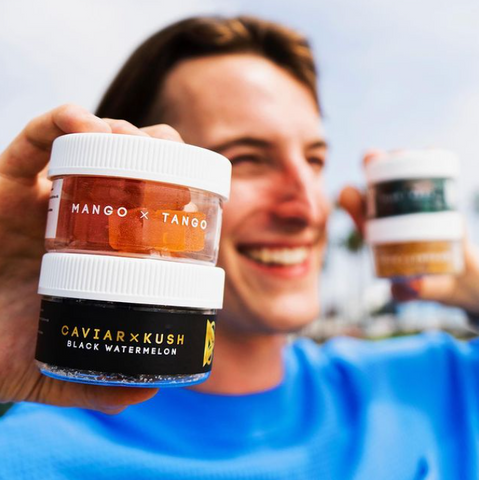 There are all sorts of ways to take delta 8 THC, and one method that's a popular choice are edibles.  And, D8.co has got you covered with this amazing collection of Delta 8 Gummies, boasting phenomenal quality and flavor.  Just 1-2 gummies a day is all you need to enjoy the perfect daily serving of delta 8, as we make it easy to satisfy your delta8-related needs.
Packaging
Delta 8 Gummies come in a container of 20 pieces, with clear information on the labeling about what's inside in terms of the milligram strength, serving size, and even serving instructions.  We go to amazing lengths to deliver in terms of durability of materials as well as aesthetics, not to mention ensuring that the gummies are sealed airtight to keep the contents as fresh as possible.
Transparency
Third-party lab reports are easy to find on their website, as we are clear about how these and all our products are created in terms of the ingredients being used, how the plant material is sourced, and so on.
Variety
Each Delta 8 Gummy has a flavor/strain option that appeals to your palate while you savor 25 milligrams of delta-8 per piece on a daily basis.
Blue x Razz: A hybrid strain that has a classic sweet n' sour blue raspberry sensation that makes the mouth pucker and the palate go wild.
Caviar x Kush: Indica strains; smoothness of the Caviar strain and earthiness of the Kush strain, this is a juicy n' oh-so sweet black watermelon and lightly dusted sugar mix into an insatiably opulent treat.
Berry x Blast: Blissful sativa strains with mouthwateringly sweet n' tangy juices.
Sour x Lemonade: This sativa-dominant hybrid will elevate the mind and body simultaneously with a sweet n' sour lemony taste.
Mango x Tango: Provides your taste buds with a dreamy mango-flavored escape to paradise thanks to this indica strain's blissful properties.
Gummies Lime x Sorbet: Besides this indica strain having some amazing relaxing properties, you will experience that bright, zesty, and tropical lime sorbet flavor.
Other Actives/Overall Formula
Only contains delta 8 THC, flavoring, natural ingredients, and terpenes.  Know that you're giving your body only pure ingredients that are gentle on the digestive system.
Ingredients: Sugar, Corn Syrup, Pectin, Sunflower Oil, Water, Flavoring, Sodium Citrate, Sodium Acid Sulfate, Citric Acid, Natural and Artificial Food Coloring, 25mg Delta 8 THC, and Natural Terpenes.
Lab-Testing
Thoroughly lab-tested for quality, purity, and authenticity by a licensed laboratory that engages in rigorous analysis of hemp derivatives.  This means that you can count on top-quality delta 8, with lab reports made available.
Flavor Profile
Every D8.co Gummy strain has its own unique flavor profile, as seen above.  While we have already discussed each individual option in terms of its flavor notes, what we can add is that each gummy has a particularly fresh, bold, and complex taste which comes from the freshness of the product and the extraction methods used to derive terpenes from the plant material.
How to Store Them Properly
Delta 8 Gummies are best when stored in a cool and dry place. For best results, refrigerate once open.  DO NOT STORE ABOVE ROOM TEMPERATURE OR IN AREAS WITH HIGH HUMIDITY.
Note: THC gummies are not heat resistant and may melt when exposed to high temperatures. In the event that gummies melt entirely, they can be stored in the freezer for up to one hour and cut into smaller pieces. Recommended to use a kitchen scale or other gram scale to weigh portions to the correct size.
Type of Experience to Be Expected
Delta 8 Gummies have effects that can be felt within an hour or so.  The effects can last for several hours, and the "body high" that many of us seek out will likely be in full effect alongside the more cerebral properties associated with the cannabinoid.
Note: Anyone new to taking THC edibles should start with 1/2 a gummy to one full gummy. It's advisable to wait as long as 45 minutes to an hour for THC's effects to be felt entirely. Gummies are best taken with food or within 15 to 30 minutes of eating. THC and other hemp products are fat-soluble so for best results, take gummies with food that contains fat.
Our Final Opinion: A Tasty Body High that's Oh-So Relaxing
D8.co Gummies are infused with fresh, lab-tested, and organically derived delta 8 THC distillate, which is carefully blended with clean and carefully sourced ingredients. Available in a rich selection of mouthwatering fruity flavors and strains, our gummies are renowned for their great taste, making every serving even more appealing.  No wonder they are an awesome choice for people out there looking to build a routine with delta 8.